What is a Lifecycle?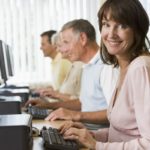 Every Windows product has a Lifecycle that begins when the version is released and ends when it is no longer supported by the company.  Users can make informed decisions about when to upgrade or make other changes to software by being aware of keys dates.
What does this mean to Windows 7 users?
Users of Window 7 Service Pack 1 have not been supported by Windows since 1/13/2015.  Those with the Extend Support will cease to be supported on 1/14/2020.  Once support ends users no longer receive software updates. This means your PC will not be protected from harmful viruses, spyware and other malicious software (which can steal your personal information) since these protections are included in updates.  Windows updates also include new drivers which enables your hardware to communicate with the PCs operating systems.  This allows your computer to send and receive data correctly from devices such as your printer and sound and video devices.
Advantages of Windows 10
Windows 10 introduces more capability with the latest hardware and devices.
Aero gives the user interface a fresh look and feel with the ability to customize the elements of the Start Menu and attempt to better utilize features from 8.1, including the store and live tiles. The Windows Store is much like the App Store or the Google Play store allowing you to utilize applications such as Netflix and social media applications such as  Facebook. The Start Menu better resembles Windows 7 then it does Windows 8 and 8.1. However, the user has a choice of which interface they would like to use.
Windows 10 (with version 1903) has both a powerful search tool and the personal assistant Cortana.  Gamers will have better experiences because of the upgrades to DirectX.
Windows 10 also includes the Edge web browser which is unique to this product. Edge was built from the ground up to replace Internet Explorer 11 and includes extensions support and multimedia support built in. One of the biggest points of attack for the last decade has been exploitable browsers, thus the move away from the highly exploitable Internet Explorer 11 is most beneficial.
Windows 10 also offers better overall security with exploit protection and major updates every 6 months.
Currently the upgrade is still free for Windows 7, 8 and Windows 8.1 users.